SMDERI's FGSS Achieved DNV-GL AIP Certificate
---
China Shipbuilding 711 Institute
On August 31st, the Fuel Gas Supply System (FGSS) of SMDERI was awarded the DNV-GL Approval in Principle (AIP) certificate by Falk Rothe, the General Manager of DNV-GL Technical Center in China. Mr.Rothe presented the certificate to He Zhijian, the Vice Director of SMDERI.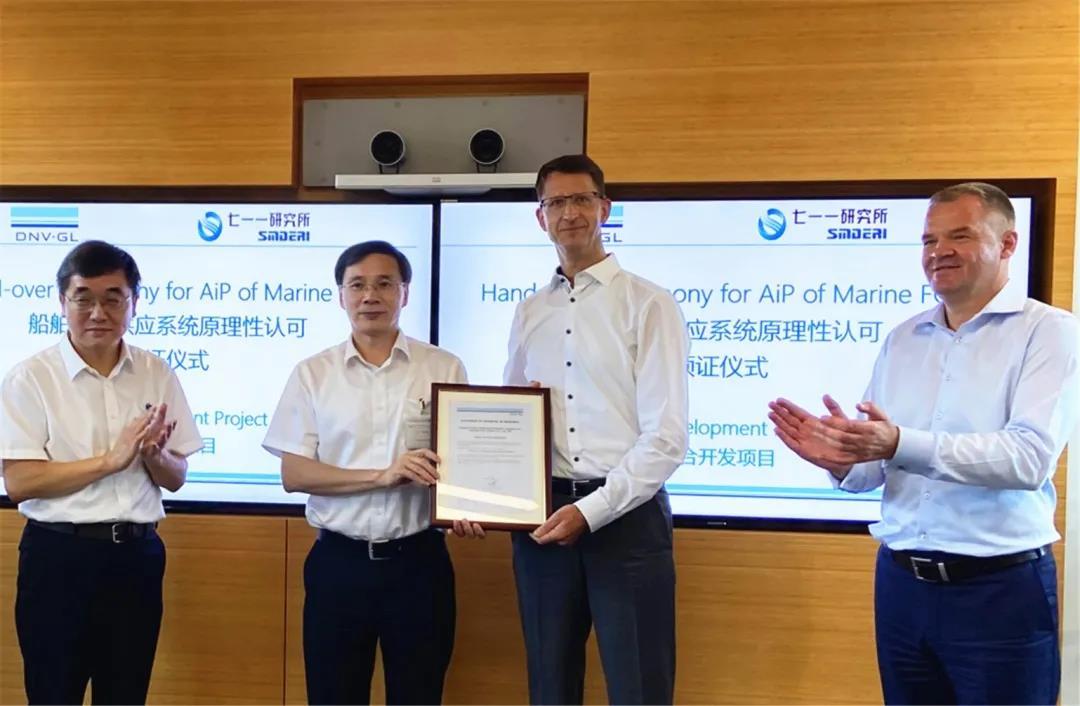 Dong Jianfu, Director of SMDERI, and Norbert Kray, Senior Vice President and Chairman of DNG-GL of China, witnessed the award ceremony. Hu Keyi, Director of Jiangnan Shipyard Science and Technology Department, and Lin Qingshan, Executive Director of Jiangnan Heavy Industry, attended the awarding ceremony.
After signing the agreement on the joint development project of FGSS with DNV-GL, and with the cooperation of Jiangnan Heavy Industry, SMDERI has had in-depth communication with DNV-GL on the system principle, process flow, electrical control and reliability.
Each sub-system of FGSS adopts highly integrated modular design, which can greatly reduce the installation cost of shipyard and maintenance cost of shipowner. Meanwhile, the control system adopts ring network topology communication and redundancy design, which is also capable of effectively improving data transmission security and ensuring the reliability of system operation.
After a rigorous evaluation, DNV-GL examination experts considered that the system fully meets the IMO IGF Code, DNV-GL specifications and related requirements, thus gave its principle approval.
At the certificate awarding ceremony, all parties expressed that they will continue to cooperate intensively to carry out more product optimization and service enhancement related to the field of ship environmental protection, and provide the applicable FGSS systems and satisfactory services to shipowners and shipyards worldwide.